5 tags
well, duuhh: TOPoftheHeap →
well-duuhh: Okay January 13, 2013 Here's a top list for all y'all. I guess Mac DeMarco - 2 Fist City - It's 1983, Grow Up! The Ketamines - Spaced Out ———————————————- ####1 FOREVER re-issue Bikini Kill EP, 20 year anniversary ————————————————— My favourite shows were probably: King Khan and BBQ Show
3 tags
6 tags
3 tags
6 tags
6 tags
6 tags
UPCOMING SHOWS:
UPCOMING SHOWS: Sat, Jan 19th: "Songs the Master Taught Us" Live-recorded covers show; Fist City, Teledrome @Tubby Dog. Calgary, AB Thur, Jan 24th: Fist City, Teledrome, Bash Brothers @ Champion Jacks. Abbotsford, BC Fri, Jan 25th: Fist City + More (details TBA) Vancouver, BC Sat, Jan 26th:  Fist City, Teledrome, Bash Brothers @ Fan Tan Alley. Victoria, BC Sun, Jan 27th:  Fist...
1 tag
3 tags
5 tags
mini-review: LP
Fist City "It's 1983 Grow Up!" (Black Tent) Raggedly elegant punk with new wave elements, an occasional sip of surf guitar, and some (gasp) 90s indie rock sprinkled in. Really good singing voices elevate already great songs to great+ level. I'm glad I could fit this fist! Posted by Roctober Magazine Reviews: at 3:40 AM 
6 tags
Review - RAD Vinyl
radvinylrecords: Fist City- It's 1983 Grow Up! (Black Tent Press) Buy it here:  http://blacktentpress.com/item/22/FIST-CITY-Its-1983-GROW-UP-LP-CD Black Tent Press made a good call when they pressed up 500 copies of "It's 1983 Grow Up!" by Canadian punkers Fist City. Twelve jet fueled, short and to the point pop songs clouded in a lo-fi basement show sheen is the outcome. Catchy hooks for...
5 tags
Review - The Daily Choice
NOVEMBER 27, 2012  The Daily Choice : Fist City – The Creeps by Noah Sander I don't know what a fist city is, but all of my images feel pretty wrong and awful and my therapist always says I should share the wrong and awful stuff, so here it goes: 1. A city where all the buildings aren't buildings but fists with giant meaty, sausage fingers. There's hair all over the knuckles and...
5 tags
5 tags
Weird Canada :: Review
November 20th, 2012 New Canadiana :: Fist City – Buried b/w Cryptic Transmissions Fist City Buried b/w Cryptic Transmissions (La-Ti-Da Records) Lethbridge, AB // Calgary, AB ::web/sounds:: From the Batusi magic of Alison Lang: Yet another great band rides into my pinheaded eastern consciousness on the gust of a Chinook, and I like them awfully a lot. Fist City continue the national...
5 tags
LP REVIEW:
November 8, 2012 by Jason Dean Fist City : It's 1983, Grow Up! About the only thing the Canadian band Fist City has in common with country singer Loretta Lynn, who wrote a song with the same name, is a raw, punk attitude of destroying anything that gets in your way.  Fist City comes out swinging on It's 1983, Grow Up! with their own anti-authority aesthetic for a different millennium. ...
5 tags
GET BENT REIVIEW
Review: Fist City - It's 1983, Grow Up! By Paul Blawat Fist City did in fact adopt their moniker from the 1968 dust-up by Loretta Lynn. That's where the similarities begin and end for these Lethbridge (aka "Hell"), AB rebelrousers. Their latest LP It's 1983, Grow Up! is a complicated madness. First off: THIS IS NOT A GARAGE ROCK RECORD!* There. What Fist City presents is a rather attuned,...
6 tags
Abbotsford Champion Jack's Emporium Presents: MOVEMBER KICK OFF FIST CITY ( LETHBRIDGE AB ) CRYSTAL SWELLS ( VAN ) KOREAN GUT ( VAN ) GSTS ( ABBY ) NOVEMBER 1ST SHOW AT 715PM FIVE BUCKS AT THE DOOR. ALL AGES.
6 tags
6 tags
A beer-fueled dumpster fire of power pop, rock 'n'...
FALL DOWN/GET DOWN October 22, 2012 · by beatrouteab · in BC MUSIC, THE SKINNY.  GET HIP The Fall Down/Get Down weekend promises to be three days of "a beer-fueled dumpster fire of power pop, rock 'n' roll and garage punk," says organizer Tim Horner, whose inspirations are Gonerfest in Memphis, Hozac Blackout in Chicago and Garage Shock in Bellingham. "I've always loved a good weekender, one...
9 tags
WEIRD CANADA: New Canadiana :: Fist City – It's...
From the caveman luncheon of Mark Teo: Contradicting its retroactive title, the Albertan garage archivists use their newest LP as a growth opportunity (just don't call it a grow-op). Here, Fist City less-than-quietly reboot their sound: "Caveman's Lunch" and "Spit" exhibits the band's brand of landlocked, wall-of-sound surf; "Blow" and "Weak End" turn Evan Van Reekum's guitars into...
6 tags
8 tags
"it's 1983, Grow up!" is available for download on...
Satanicool pals! Get the Digital Album::: Immediate download of 12-track album in your choice of MP3 320, FLAC, or just about any other format you could possibly desire. Buy Now: $5 CAD or more x
8 tags
7" Review: Buried/Cryptic Transmissions
"The Lethbridge band has dealt in giddy post-punk stompers (their first LP, Hunting You, sounded to this reviewer a little bit like the B-52s and Wire comparing notes over grits and warm beer in someone's living room), but a laid-back beach-and-surf vibe has washed over them as of late, and the Buried/Cryptic Transmissions split reflects this tendency…" READ THE WHOLE THING
7 tags
LP Review: Its 1983 Grow Up!///Scene Point Blank
"There's a little something for everyone here – from the circus fun house riffs of spaced-out dance party "The Creeps" to the irresistible shoe gaze/surf grab bag "Endless Summer." Don't even bother trying to stop yourself from shimmying along; resistance is futile.  All tracks are driven skilfully by Ryan Grieve's Go-Go caveman drumming and the straightforward but dexterous bass lines of...
6 tags
Upcoming Shows/Releases
Hey creeps! Upcoming shows: Oct 12 - Calgary - the palomino w/falcon and fucked up Nov 2 - Vancouver - the rickshaw theatre w/Death and tiger high Nov 16 - Lethbridge (details to follow) w/ Stalwart Sons Nov 17 - Calgary - the palomino w/ lots of bands (palomino anniversary show - ltd. Calgary comp LP available here ONLY feat. cavemans lunch as recorded by Don Pyle) Nov 24 - Calgary -...
2 tags
7 tags
5 tags
Fist City VS. Forest City: An Interview with Fist...
Wednesday, August 29, 2012 - 6:29pm "Fist City is a quartet from 'the otherside of the Rockies', Lethbridge Alberta, that online blog Indie Fuzz describes as 'hard knock cheap but good tasting garage rock whiskey' while 'sipping a surfy Hawaiian Harvey Wallbanger. Shake it, bake it' and you get Fist City….." READ INTERVIEW
15 tags
5 tags
STILL SINGLE: Fist City – It's 1983 Grow Up! LP... →
still-single: RECOMMENDED Got pretty stoked on records coming out of the territory of Alberta for a bit there, and this album from Lethbridge's Fist City is bringing me back around. Good energy, good sound, a nice flexibility to the guitars and keyboard (that's a keyboard, right?), kinda leaning…
5 tags
4 tags
x-mist says this...
FIST CITY- It's 1983 Grow Up! - LP+CD - BLACK TENT PRESS  "Fantastic album by this band from Alberta/Canada, and a perfect addition to the line of great bands having come lately from that region (MYELIN SHEATHS, SHARP ENDS). Totally ripping Riot-Punk, sounding kinda like as if BIKINI KILL had been more into New Wave, WIPERS and Surf-Punk. Limited edition of 500 hand numbered copies, with...
5 tags
5 tags
5 tags
4 tags
6 tags
5 tags
FIST CITY CROSS CANADA TOUR!
Aug 14 – Edmonton @ Wunderbar W/ Bonspiel & Burn Collector Aug 17 – Vancouver @ Zoo Shop W/ Korean Gut, Crystal Swell, & (New Band) Aug 18 – Victoria @ Talk's Cheap W/ Bash Brothers (Early Show) Aug 19 – Nanaimo @ Beach Party W/ Bash Brothers Aug 20 – Abbotsford @ Champion Jacks W/ Real Boys & Pizza Sub Aug 22 – Lethbridge @ The Owl W/ Teledrome & Better Half Aug 23 –...
5 tags
6 tags
6 tags
Nardwuar vs. Fist City: Listen →
We had a blast chatting with Nardwuar this week! Give it a listen.
4 tags
IndieFuzz Review: it's 1983, Grow Up! →
6 tags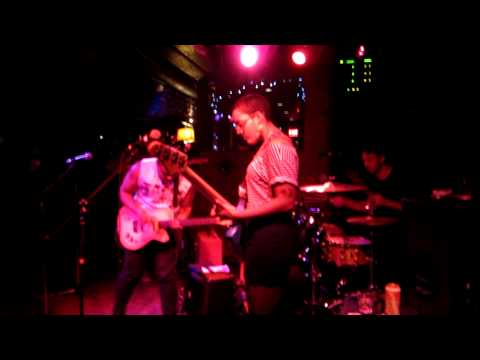 7 tags
5 tags
6 tags
6 tags
DISCORDER - real live review: July 12 @ Antisocial...
Fist City | | photo by Penny Clark Needles//Pins/Fisct City/The Courtneys @ Antisocial "Carried inside pockets and backpacks, the day's heat lasted past sundown at Antisocial skateboard shop on July 12. In an atmosphere endorsing more than Etnies, the 50-person crowd stood by a wall tiled with skateboards, waiting for the first band to begin. Indeed this show was just right for the...
5 tags